The cloud Game Streaming sector is heating up in India. Nvidia recently jumped into the fray with the launch of its own game service called the GeForce Now. The chipmaker has opened its cloud-based game streaming service, which is set to take over Google Stadia in North America and Europe, to memberships. However the GeForce Now in India is still a long way away from becoming a reality. Currently the GeForce Now service is only open to users across Europe and North America. But that does not mean you can not still use GeForce Now in India right now.
WHAT EXACTLY IS CLOUD GAME STREAMING?
Simply put, GeForce Now is like Netflix for games. The game itself runs in the Nvidia cloud, and the video is streamed over the Internet, much like Netflix videos. It is a cloud-streaming game service that lets users play high-end games on any computer or smartphone. They don't have to worry about the hardware of underlying device. Similar to other game streaming services, the GeForce Now platform uses its GeForce graphics cards for running PC games. Game video from which can then be streamed on any Windows, Mac, Android and iOS device.
This means, users don't have to worry about their machine's specs anymore. Also since it's essentially a game video stream service now, it removes the platform barrier, that means now you can play the games only available on Windows platform on any platform, be it Apple's Mac OS, Android or any other operating system (coming soon). The only things you'll need is a good monitor (depends upon the taste), fast internet and a high DPI mouse (for capturing those minuscule movements).
Nvidia GeForce Now in India
Games can be now be directly streamed to any device where there is a reliable and fast internet connection. But if you try to sign up with GeForce Now in India, you will receive a message that it is not supported in your region. Head up to the podium If you're willing to wait, you can Sign up now – and be on the waiting list for a chance to be part of the beta in the first few months after launch in India.
---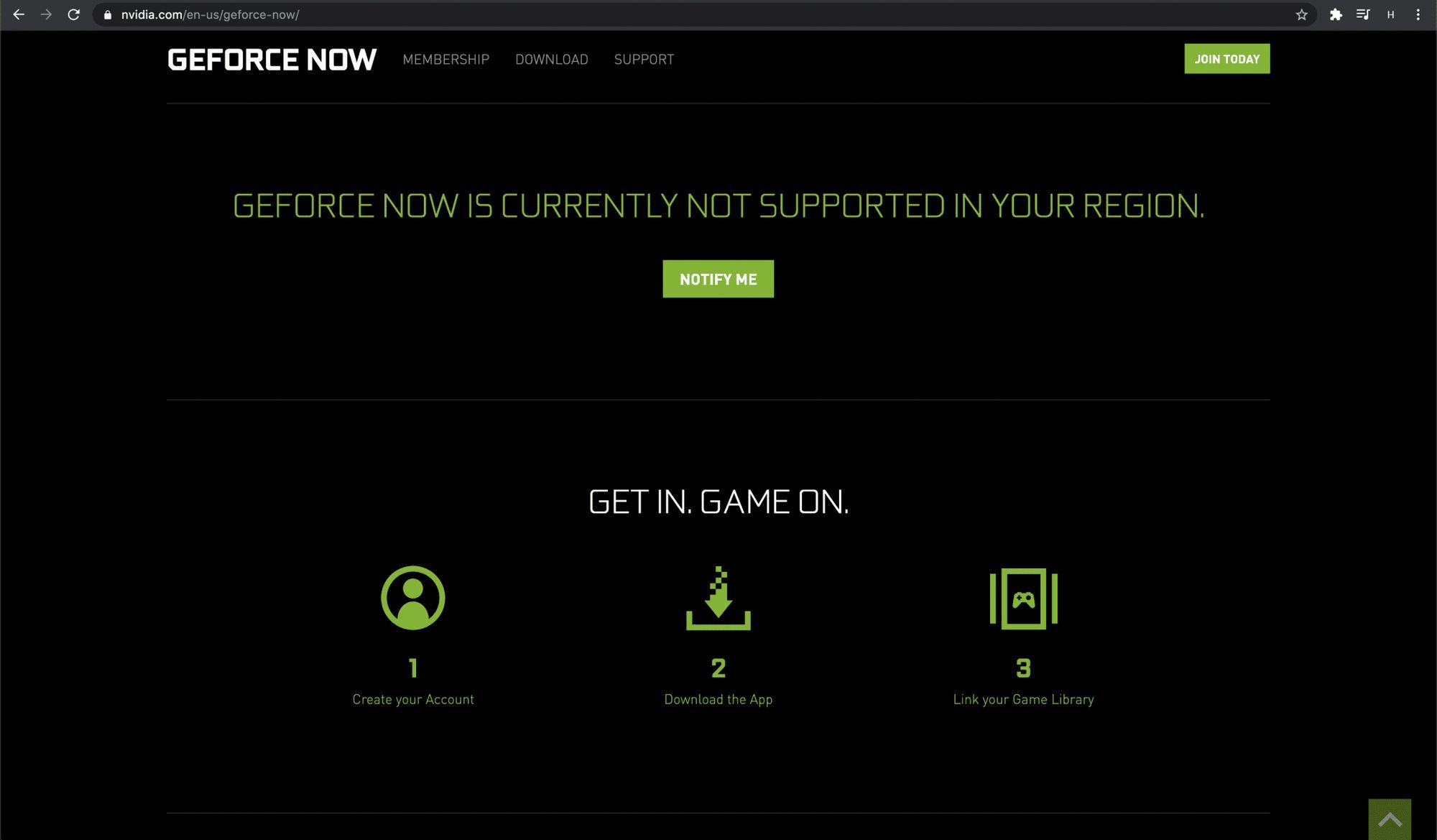 However if you're impatient like me, then in this article I'm going to tell you how to access GeForce Now in India right now.
What You'll Need
VPN Account (which let's you connect to a EU Northwest server).
Mac, Windows Machine
Decent/Fast Internet Connection
OR, Alternatively if you're a technical person who likes to fiddle around with cloud compute services
Google Cloud Account or AWS Account
Mac, Windows Machine
Decent/Fast Internet Connection
Note that you need a pretty decent Internet connection to play (to stream the in-game video) the game seamlessly, otherwise you will notice delays in gameplay.
Step 1 – Connect VPN
Open up your VPN provider.
Use ProtonVPN for 7 days free trial and 5$ / Month after that.
Connect to any EU-Northwest server in your VPN servers list.
For ProtonVPN users: connect to a Sweden server.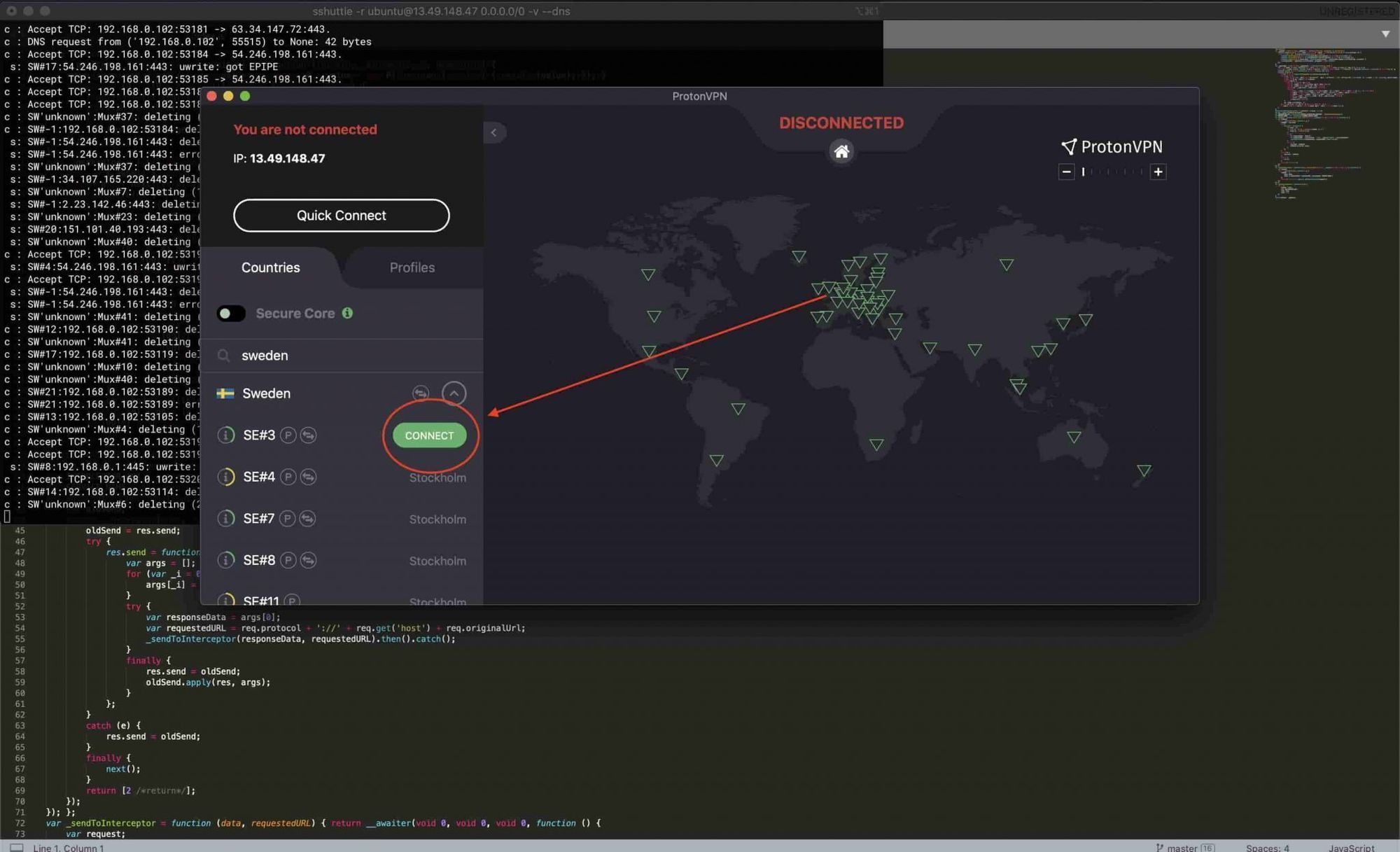 Step 1 (Alternative) – If you don't want an expensive VPN Service.
VPNs can be easy to use, but a reliable and safe VPN will always charge you money for their services, and the free ones are not reliable or safe. Since this is a technical website, I would feel bad if I did not include any free alternatives to expensive VPNs out there. There are quite a few alternatives to using an expensive VPN service, but obviously they're only helpful if you are a technical person and know your way around a few cloud services.

Alternative 1:
Alternative 2:
If you have an AWS Account.
Launch a t3.nano (price: $0.0052/hour or 4$/month) in EU-NORTH-1 Stockholm region.
Make sure to add an ssh key – this will be used to connect to this instance using sshuttle later.
Stop the server after launching a game to save costs.
Cost: if you launch a new game 5 times a day, and let's assume for launching the game we have to keep this server on for 10 minutes, 5 x 10 = 50 Minutes. 50 x 30 days = 150 Minutes, let's round it off to 180 Minutes ~ 3 hours. Cost: 3 x 0.0052 = 0.0156 USD / Month.
0.015$ per month, This is essentially a free work around to our expensive VPN problem.
Note: you need to install sshuttle on your local machine and not on the server you just created
Step 2 – Sign up and Download GeForce Now in India
Free Plan: 1 hour continuous play time limit.
Founders Plan (5$ / Month): 6 hours continuous play time; RTX option; Priority Access to service resources.
Go to GeForce Now downloads page and download the GeForce Now for your device.
Install the GeForce Now application on your system and login.
Step 3 – Connect Steam and Launch Game
Once you've logged into your GeForce Account, Search for a game.
After searching for a game, click on Play.
Only certain games are free to play (eg. Fortnite), for others you'll need to purchase them on their respective stores.
If you own a game on a store for example steam: then GeForce Now will ask / guide you through the process of linking your steam account for verifying that you own that game.
Only after a game is launched – You can disconnect your VPN ( or close your sshuttle tunnel ).
Disconnecting the VPN at this stage will allow you to connect directly to Nvidia Servers bypassing the VPN and getting more speed.
If you had launched an EC2 Instance for VPN tunnel, you can stop that instance now until you need to launch another game. This will help keep the costs low.
Depending upon the game, it might take 3-4 minutes to launch, so be patient and don't exit thinking the window is unresponsive.
Caveats
Given that Nvidia's GeForce Now service is still in beta, you should not expect everything to be perfect for Android phones and tablets. Certain Steam titles are not supported either and can cause problems, so be alarmed if your entire library is not visible or playable.
Let me know in the comments below if you have had any difficulty understanding the steps above – or if there have been connection errors or other problems. And let's hope Nvidia creates some infrastructure in India to provide GeForce Now in India.